Vision and Values
We put the children's learning at the heart of everything we do so that they can explore, discover and make sense of the world, make choices, develop independence and learn the skills of social interaction, develop an appreciation of their learning environment and treat it with respect, develop self-esteem, self-confidence and a sense of their own identity.
We provide a caring and supportive environment in which the contributions of all children are valued enabling them to fulfil their potential.
We are an inclusive setting that appreciates the uniqueness of the individual child, regardless of ability and experience, and the wonderful diversity of the local community.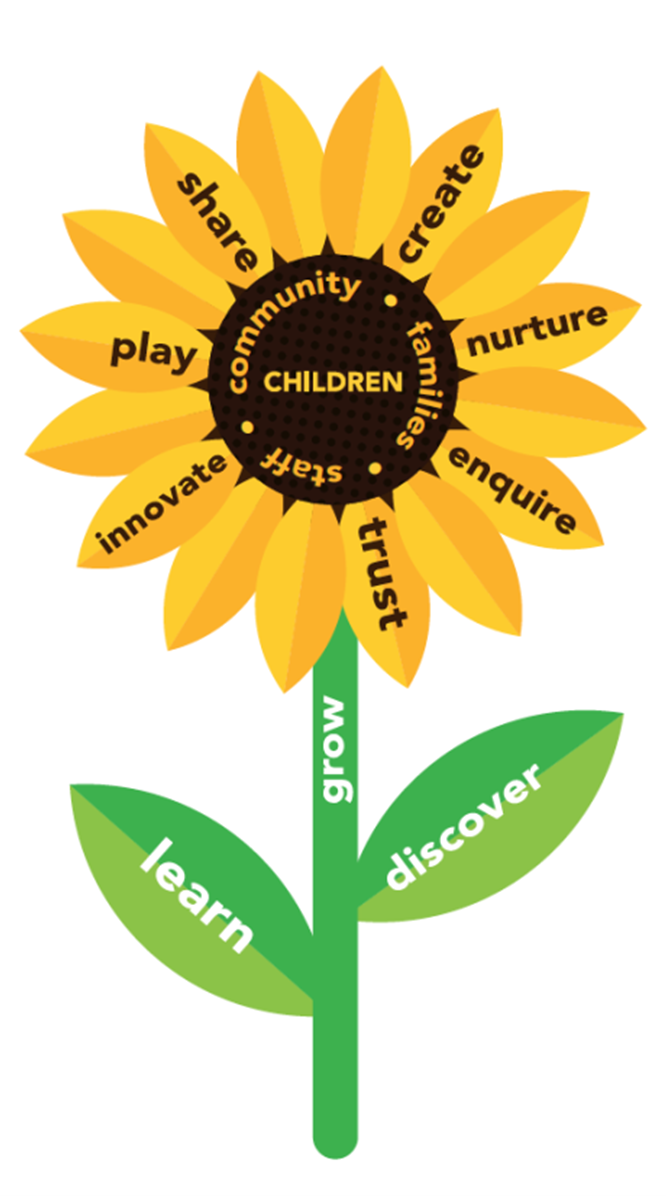 We celebrate the successes of all individuals no matter how small, to develop a committed and appreciative learning community.
We establish dynamic, innovative and creative practice based on research into how young children learn.
We involve the whole community in the day to day life of the school to enrich the children's learning opportunities.
We commit to the professional development of all staff to extend their knowledge, understanding and skills of early years education to build capacity and secure continuous school improvement.
We maximise the interdependent relationships of all adults and children involved in the setting enabling us to work together to secure the best possible outcomes for children.
Our Principles
The four principles of the EYFS underpin our Curriculum:
A Unique Child – every child is unique and develops in different ways and at different rates; they are constantly learning and have the capacity to be resilient, capable, confident and self- assured.
Positive Relationships – children learn to be strong and independent through key person relationships which are warm and loving, sensitive, responsive and supportive.
Enabling Environments – which offer stimulating resources and spaces, inside and out and rich learning opportunities where children can take risks and explore.
Learning and Development – practitioners teach children through both child-led and adult-led experiences through quality interactions supporting each next step of learning.
Education for Children's futures requires supporting children's ability to learn and to think for themselves. The Characteristics of Effective Learning describe how children learn:
Playing and exploring – we provide experiences and interactions that respect children's ideas, autonomy and interests. They follow their own curiosity and learn to develop their own challenges.
Active Learning – we provide time, space and resources we foster children's growing powers to concentrate with deep involvement.
Creative and thinking critically - we provide play opportunities and adult planned experiences, to allow children to think of their own ideas, imagine possibilities and creatively combine ideas in spontaneous ways.